I Top (Button & Brad Maker)




This is a very useful and fun tool can apply to many crafts, sewing, quilting, needlework, scrapbooking and the possibilities are just endless. The I-top transforms an ordinary brad, button, magnet, badge, snap, or twist into a custom accent in an easy 2-step process. Sizes available are 16mm, 22mm, 28mm. and 34mm. Just place your fabric or paper topper over a blank shell and give a little squeeze. It is very easy.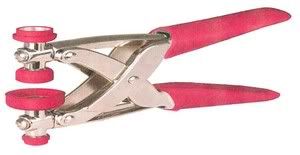 The best part of the tool is it is very easy to use and you can make the covered buttons in seconds. You can center the fabric exactly where you want. Here are the buttons that I have made using the tool.



I made the buttons and finished them as beaded scissors fobs: